BfA: Die Fähigkeiten der Bosse in Uldir

BfA: Die Fähigkeiten der Bosse in Uldir
Bei dem ersten Schlachtzug in der kommenden Erweiterung "Battle for Azeroth" handelt es sich um den in Nazmir positionierten Komplex UIdir, der vor sehr langer Zeit von den Titanen als eine Forschungseinrichtung gebaut wurde und mittlerweile den Ursprung der in Zandalar wütenden Verderbnis darstellt. Auch wenn die auf den Alphaservern spielenden Personen diesen Raid im Moment noch nicht besuchen dürfen, so listet das in dieser Testphase vorhandene Dungeonkompendium praktischerweise aber schon einmal die wichtigsten Mechaniken und Fähigkeiten dieser zukünftigen Encounter auf. Durch diese leider noch unfertige Übersicht können daran interessierte Personen schon jetzt einen Eindruck davon gewinnen, was für Bosse in Uldiar vorhandenen sind, welche Mechaniken diese Encounter verwenden und welche Rolle dieser Schlachtzug in der Geschichte des Addon spielt. Folgend findet ihr nun sowohl eine Übersicht mit den Fähigkeiten der in Uldir vorhandenen Bosse als auch Bilder zu den vorläufigen (unfertigen) Modellen dieser Encounter.
(Hinweis: Der Schlachtzug befindet sich aktuell noch immer in einer sehr frühen Entwicklungsphase. Aus diesem Grund sind derzeit auch nur 6 bon 8 angeblichen Bossen bekannt und die Encounter verwenden oft die falschen Modelle.)
Titan Keeper Hezrel:
Bei Hezrel handelt es sich um einen Wächter der Titanen, der von Spielern in Nazmir gefunden und im Verlauf einer Questreihe repariert wird. Leider gibt es aktuell noch keine Informationen darüber, warum er als Encounter in diesem Schlachtzug auftaucht und was für Fähigkeiten er verwendet.
Red Queen:
Dieser Encounter stellt das von den Titanen errichtete Sicherheitssystem von Uldir dar. Die Spieler dürfen die hinteren Abschnitte des Raids erst dann betreten, wenn sie durch die Dekontaminationskammer der Red Quest getreten sind.
Fähigkeiten:
Fetid Devourer:
Diese mehrköpfige Bestie scheint in dem Bereich von Uldir zu hausen, der für die Aufbewahrung oder die Entsorgung von Abfällen bestimmt ist. Zumindest verwendet dieser Boss viele auf Gestank und Müll basierende Fähigkeiten.
Übersicht:
Overview

: Fetid Devourer engages players, storing up energy over time to unleash

[Rotting Regurgitation]

. Periodically, Waste Disposal Units around the room will activate, dumping waste into the room and leaving behind Corruption Corpuscles. Players must kill these before they release

[Enticing Essence]

, or Fetid Devourer will move to them and

[Consume Corruption]

, healing and gaining energy. At 50% health, Fetid Devourer will enter into a

[Fetid Frenzy]

.

Tanks:

The primary tank on Fetid Devourer will take more consistent – but overall higher – damage.

As the secondary tank, stand nearby the primary tank so that you are targeted by

[Terrible Thrash]

, and be prepared for large spikes of damage when it hits.

Healers:

The primary tank on Fetid Devourer will take more consistent – but overall higher – damage, and the secondary tank will take intermittent, high damage from

[Terrible Thrash]

. Be sure the secondary tank's is near full health when

[Terrible Thrash]

is incoming.

Damage Dealers:
Fähigkeiten:
Thrashing Terror

: Every fourth attack, Fetid Devourer will use Thrash on the closest player to the current tank.

Terrible Thrash

: Thrashes the target, inflicting 300% of a standard melee attack to them.

Rotting Regurgitation

: When Fetid Devourer reaches 100 Energy, he unleashes a Rotting Regurgitation, inflicting 30000 Nature damage immediately and an additional 20000 Nature damage every 2 sec. in a cone in front of him for 8 sec.

Shockwave Stomp

: Inflicts 9750 to 10250 Physical damage to all players and knocks them back.

Malodorous Miasma

: The foul stench of the area sickens players, inflicting 4500 Nature damage to afflicted players every 1.5 sec. for 18 sec.

When this effect expires, it applies Deadly Disease to the affected player.

Enticing Essence

: Releases pheromones, drawing Fetid Devourer to consume the Corruption Corpuscle.

Consume Corruption

: Consumes a Corruption Corpuscle, healing Fetid Devourer for 10% and granting 20 Energy.

Fetid Frenzy: At 50% Health, Fetid Devourer frenzies, increasing damage dealt by 25% and damage taken by 50%.
Titan Discs:
Die Spieler versuchen auf die korrumpierten Scheiben (Aufzeichnungen) der Titanen zuzugreifen und werden dabei von vielen verschiedenen Dienern der Alten Götter angegriffen. Interessanterweise erzeugen die Scheiben selbst mehrere in diesem Kampf auftauchende Mobs, die aufgrund des Hintergrunds von Uldir aus anderen Erweiterungen bekannte Diener der Alten Götter darstellen.
Übersicht:
Overview: Zol'thuum assaults players while the compromised Titan Discs come online, calling forth powerful Old God magics and summoning their lesser servants. As new Titan Discs come online, previously activated Discs will go dormant.

Tanks:

Healers:

Damage Dealers:
Fähigkeiten:
Blood of G'huun:
Eine Probe des Blutes von G'huun wurde zum Leben erweckt und läuft Amok. Die Titanen sahen diese Blutprobe als eine Infektion an, die das gesamte Leben auf Azeroth auslöschen kann.
Übersicht:
Fähigkeiten:
Lingering Infection

: Weakens the player's resistance to future infections, increasing Nature damage taken by 5%.

Pestilence

Carnage

Liquefy

: Transforms into a pool of toxic blood, triggering Lingering Infection on players who come into contact with the pool.

Blood Geyser

: A geyser of corrupted blood inflicts 8550 to 9450 Shadow damage to all players within 1 yards. Affected players gain a stack of Lingering Infection.

Hypergenesis

: A pool of blood forms, erupting for 14250 to 15750 Shadow damage to players within 6 yards after 8 sec.

If no players are hit by the eruption, it instead inflicts 17100 to 18900 Shadow damage to all players.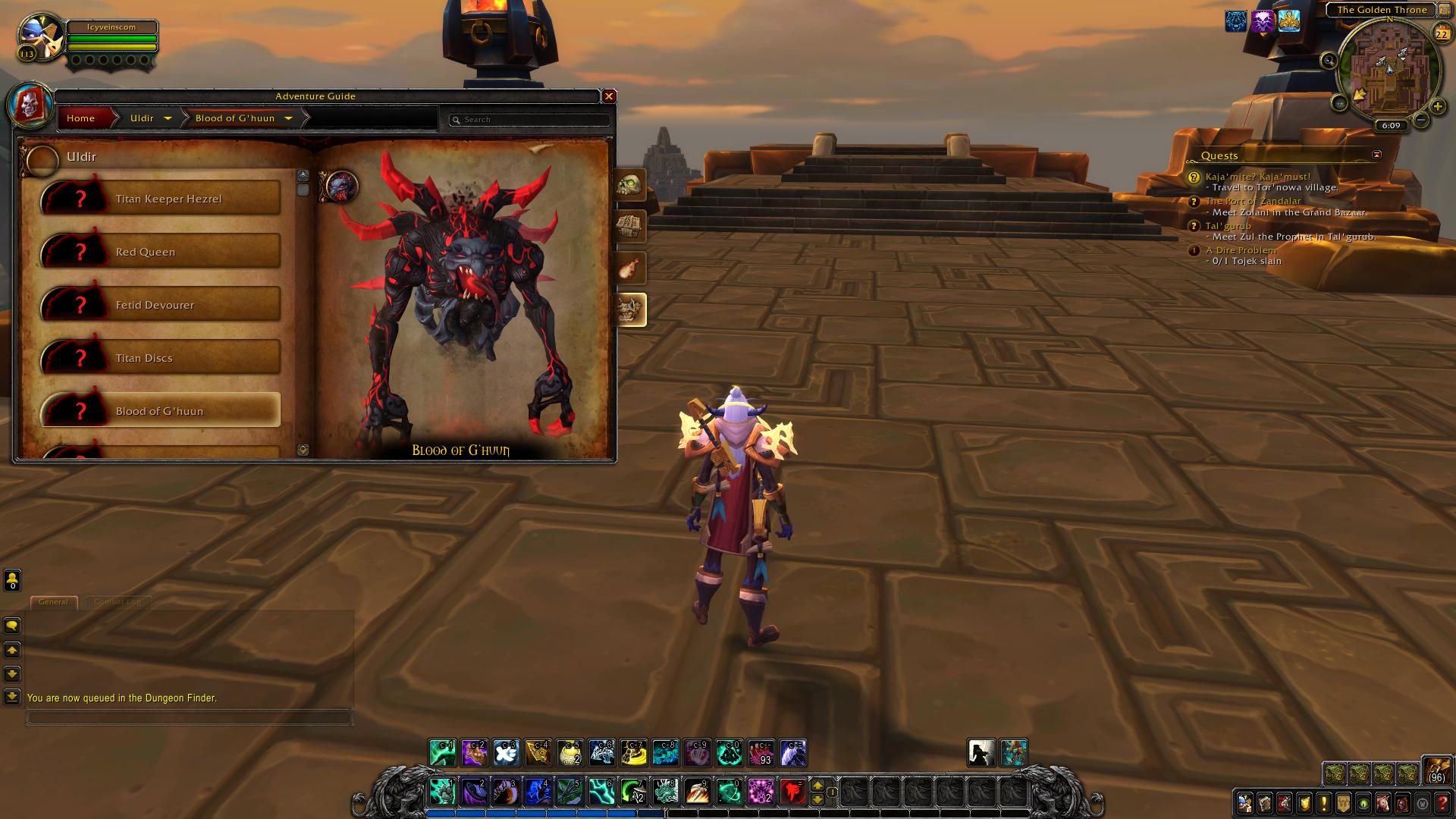 G'huun:
Der möglicherweise fünfte Alte Gott G'huun wurde von den Titanen in Uldir eingesperrt und diente ihnen einige Zeit lang als Versuchsobjekt für ihre unterschiedlichen Experimente. Im Laufe der Zeit haben sich allerdings die Schutzmaßnahmen dieser Einrichtung ein wenig gelockert, weshalb G'huun sowohl die Bluttrolle als auch Teile von Zandalar verderben konnte.
Fähigkeiten:
Stage One: My Minions are Endless!

Arena Floor

Blightspreader Tendril

: The Blightspreader Tendril slowly loses energy over time. Upon reaching 0 energy, the tendril burrows through the ground to a new location, casting

[Mantle of Shadow]

upon emerging.

Decaying Eruption

: Inflicts 7312 to 7688 Plague damage to all players, consuming up to 10 energy upon a successful cast.

Mantle of Shadow

: The caster forms a shield of shadows around itself, absorbing the next 500000 damage taken. While the absorb shield is active the caster is immune to interrupt and silence effects.

In addition, the caster's energy is refreshed to 100.

Upper Platforms

Defensive Countermeasure: Upon dying a Defensive Countermeasure explodes, dropping a Titan Core.

While holding the Titan Core, the target's movement speed is reduced by 20% every 2 sec until they become immobile.

Throw Titan Core

: Throws the titan core up to 20 yards. If the core is not caught by another player it is destroyed.

Imperfect Physiology

: The lingering effects of the curse of flesh interfere with the titan's power, preventing interaction with the Titan Cores for 2 min.

Tendrils of Corruption

: Nightmarish tendrils grasp and squeeze any player who touches them, immobilizing the target and inflicting 0 Plague damage every 5 sec for 12 sec.

Stage Two:

Stage Three: Reorigination

Reorigination Blast

: Unleashes a blast of titanic power, inflicting 10862 to 11138 Arcane damage to all players every 5 sec for 25 sec.

This blast incapacitates G'huun, and increases his damage taken by 500% for 25 sec.