BfA: Die PvP-Talente der spielbaren Klassen

BfA: Die PvP-Talente der spielbaren Klassen
Mit dem im Verlauf der vergangenen Woche auf die Testserver der geschlossenen Beta von Battle for Azeroth aufgespielten Beta Build 26567 haben die Mitarbeiter von Blizzard Entertainment sowohl von vielen Spielern herbeigesehnten War Mode aktiviert als auch umfangreiche Anpassungen an dem bisher für das PvP verwendetem Talentsystem durchgeführt. Aufgrund dieser interessanten Anpassungen stehen den Spielern in der Zukunft dann insgesamt vier aktive PvP-Talente (von 12 möglichen Talenten pro Klasse) gleichzeitig zur Verfügung, die in vielen Fällen auf dem Ehresystem aus Legion basieren und den spielbaren Klassen wesentlich mehr Optionen im Kampf gegen andere Spieler einräumen. Damit ihr euch nun bereits im Vorfeld der Veröffentlichung dieser Veränderungen ein Bild von diesem neuen System machen könnt, findet ihr folgend sowohl einige allgemeine Informationen zu den geplanten Anpassungen als auch eine umfangreiche Liste mit allen in BfA vorhandenen PvP-Talente für die spielbaren Klassen von World of Warcraft.
Allgemeine Informationen zu dem neuen Talentsystem:
Die PvP-Talente sind nicht mehr länger an die Ehrenstufe der Spieler gebunden.
Durch die Aktivierung des War Modes stehen die PvP-Talente den Spielern dauerhaft in der offenen Spielwelt zur Verfügung.
Die PvP-Talente werden in der Zukunft in einem neuen ausklappbaren Fenster neben dem normalen Talentbaum angezeigt.
Anstelle der bisher für das PvP verwendeten sechs Reihen mit jeweils drei verschiedenen PvP-Talenten wählen die Spieler in Battle for Azeroth einfach nur noch drei von zwölf möglichen aktiven PvP-Talenten aus. Dazu kommen die passiven Effekte aus dem Talentbaum und eine vierte aktive Fähigkeit, die speziell als Konter für Kontrolleffekt erschaffen wurde.
Jede Klasse hat vier Slots für PvP-Talente.
Der erste Slot muss mit einer der drei folgenden Fähigkeiten belegt werden.

 Adaptation – Removes any loss of control effect with a duration of 5 seconds or more. This effect can only occur once every 60 sec.
 Relentless – Duration of incoming crowd control effects reduced by 20%. Does not stack with similar effects.
 Gladiator's Medallion – Removes all movement impairing effects and all effects which cause loss of control of your character while in PvP combat. (Instant, 2 min cooldown)

Die anderen drei Slots sind für die drei von zwölf möglichen aktiven PvP-Talente bestimmt.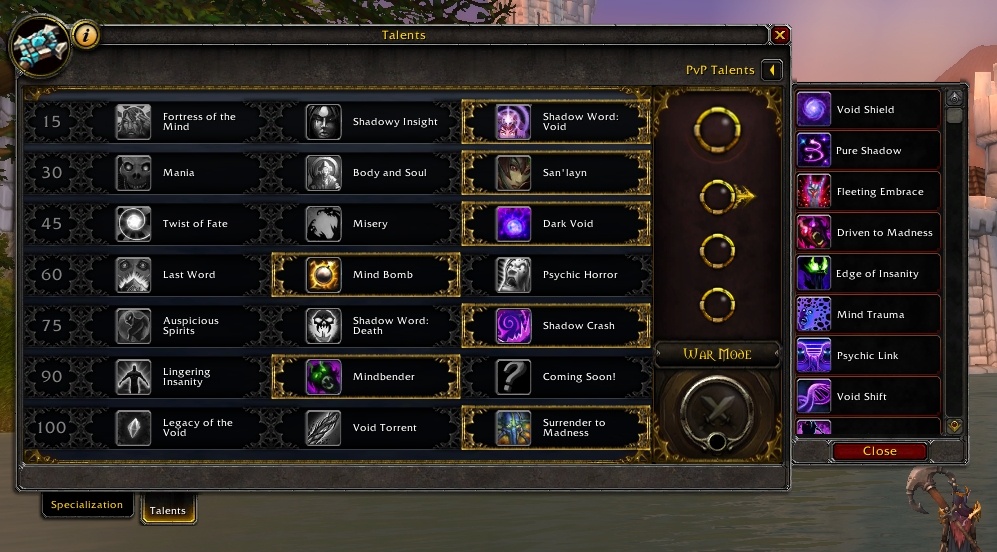 Die PvP-Talente der spielbaren Klassen:
Hinweis: Die Talente basieren auf dem Beta Build 26567.
Death Knight
Blood
Frost
Unholy

 Wandering Plague – Outbreak also infects the target with Wandering Plague, causing [ 160% of Attack Power ] Shadow damage over 8 sec. When Wandering Plague's duration ends or is dispelled, it jumps to a nearby enemy within 30 yards afflicted by one of your diseases. Lasts for 3 jumps. You can only have one Wandering Plague active at any one time. (1 Runes, 8 sec cooldown)
 Pandemic – When you use Outbreak, all enemies within 25 yards afflicted by your diseases take [ 16.38% of Attack Power ] Shadow damage and the duration of your diseases on them are refreshed.
 Crypt Fever – Enemies healed while afflicted by your Festering Wounds have a chance to take [ 16.38% of Attack Power ] Shadow damage.
 Dark Simulacrum – Places a dark ward on an enemy that persists for 12 sec, triggering when the enemy next spends mana on a spell, and allowing the Death Knight to unleash an exact duplicate of that spell. Against nonplayers, only absorbs some harmful spells. (Instant, 20 Runic Power, 40 yd range, 25 sec cooldown)
 Anti-Magic Zone – Places an Anti-Magic Zone for 10 sec that reduces spell damage taken by party or raid members by 60%. (Instant, 30 yd range, 2 min cooldown)
 Heartstop Aura – Decreases the cooldown recovery rate of abilities by [ 20 + 25% of Spell Power ]% to all enemies within 8 yards.
Unholy Mutation
Reanimation
 Cadaverous Pallor – You have a 20% chance when struck by a magical spell for it to be completely absorbed and converted into a disease on yourself, dealing Nature damage over time.
 Necrotic Aura – All enemies within 12 yards take 8% increased magical damage.
 Decomposing Aura – All enemies within 10 yards slowly decay, losing 3% of their max health every 2 sec. Stacks up to 5 times. Lasts for 6 sec.
Demon Hunter
Druid
Hunter
Beast Mastery
Marksmanship
Survival

 Hunting Pack – Reduces the cooldown of your Aspect of the Cheetah by 50%, and Aspect of the Cheetah also causes all allies within 15 yards to gain 90% movement speed for 3 sec.
Mending Bandage
 Roar of Sacrifice – Protects a friendly target from critical strikes, making attacks against that target unable to be critical strikes, but 20% of all damage taken by that target is also taken by the pet. Lasts 12 sec. (Instant, 40 yd range, 60 sec cooldown)
 Sticky Tar – Enemies who stand in your Tar Trap for 3 sec have their gear coated with tar, slowing melee attack speed by 50% for 5 sec.
 Tracker's Net – Hurl a net at your enemy, rooting them for 6 sec. While within the net, the target's chance to hit is reduced by 80%. Any damage will break the net. (Instant, 40 yd range, 10 sec cooldown)
 Diamond Ice – Victims of Freezing Trap can no longer be damaged or healed. Freezing Trap is now undispellable, but has a 5 sec duration.
 Hi-Explosive Trap – Hurls a fire trap to the target location that explodes when an enemy approaches, causing [ 57.33% of Attack Power ] Fire damage and knocking all enemies away. Trap will exist for 60 sec. (Instant, 40 yd range, 40 sec cooldown)
 Survival Tactics – Feign Death removes all harmful magical effects, and reduces damage taken by 99% for 1.5 sec.
 Spider Sting – Stings the target with potent spider venom for 4 sec, causing their next offensive spell cast to silence the target for 4 sec. (Instant, 40 yd range, 45 sec cooldown)
 Scorpid Sting – Stings the target, reducing their physical critical strike chance by 50% for 8 sec. (Instant, 40 yd range, 24 sec cooldown)
 Dragonscale Armor – Magical damage over time effects deal 20% less damage to you.
 Viper Sting – Stings the target, reducing their healing done by 30% for 6 sec. Viper Sting is removed if the target casts a non-instant cast healing spell. (Instant, 40 yd range, 30 sec cooldown)
Mage
Monk
Brewmaster
Mistweaver
Windwalker
Paladin
Holy
Protection
Retribution
Priest
Rogue
Assassination
Outlaw
Subtlety
Shaman
Elemental
Enhancement
Restoration
Warlock
Affliction
Demonology
Destruction
Warrior