Shadowlands: Der neue Build 34365 wurde veröffentlicht

Shadowlands: Der neue Build 34365 wurde veröffentlicht
In der vergangenen Nacht spielten die Entwickler von Blizzard Entertainment den brandneuen Build 34365 auf die mittlerweile bereits seit einigen Wochen laufenden Testserver für die geschlossene Alpha von Shadowlands auf, der diese Testphase auch dieses Mal wieder um eine Reihe von Änderungen und Neuerungen erweiterte. Dabei beinhaltete dieser Build neben den üblichen Klassenänderungen auch noch neue Optionen für die Charaktererstellung, ein neues Interface für den Friseur, neue Rüstungssets für Plattenträger, einen neuen

Klingenwirbel für Schurken und eine Reihe von weiteren Kleinigkeiten. Folgend findet ihr eine Übersicht zu den Inhalten von Build 34365, die im Verlauf des heutigen Tages keinen eigenen Beitrag erhalten werden.
Mit Build 34365 haben die auf Gesetzlosigkeit geskillten Schurken eine neue Version ihres

Klingenwirbels erhalten, die auf Stufe 52 freigeschaltet wird und sich nicht auf der globalen Abklingzeit befindet. Schurken können diese Fähigkeit in Shadowlands also scheinbar jederzeit aktivieren.
Klingenwirbel

  Causes your single target attacks to also strike up to 4 nearby enemies for 40% of normal damage for 12 sec.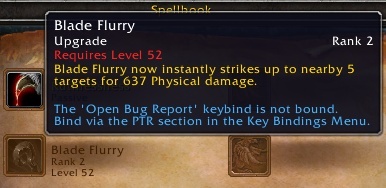 Ein neues Interface für den Friseur:
Neue Gesichtsformen für Menschen:
Neue Modelle:
Das Shade Beast Mount:
Neue Karten:
Neue Icons:
Neue Rüstungssets:
Kette aus Schloss Nathria:
Kette aus dem Schlund:
Neue Augenfarben für Untote:
Klassenänderungen:
Death Knight
Icebound Fortitude Your blood freezes, granting immunity to Stun effects and reducing all damage you take by 30% for 8 sec. Death Knight – Blood, Frost, Unholy Spec. Death Knight – Blood, Frost, Unholy Spec. Instant. 3 min cooldown.
Runeforging

Rune of the Apocalypse Affixes your rune weapon with a rune that gives your ghoul's attacks a chance to apply one of the following debuffs to the target, Death: Healing Reduction, War: Increases damage taken by the Death Knight, Famine: Reduces damage taken by the Death Knight, Pestilence: Slows the target and deals damage over time. Modifying your rune weapon requires a Runeforge in Ebon Hold. 5 sec cast.
Hunter

Tar Trap Hurls a tar trap to the target location that creates a 8 yd radius pool of tar around itself for 30 sec when the first enemy approaches. All enemies have [ 50 + 25% of Spell Power ]% reduced movement speed while in the area of effect. Trap will exist for 60 sec. 40 yd range. Instant. 30 sec cooldown.
Paladin

Rogue
Outlaw

Blade Flurry Causes your single target attacks to also strike up to 4 nearby enemies for 40% of normal damage for 12 sec. Requires One-Handed Melee Weapon. Rogue – Outlaw Spec. Rogue – Outlaw Spec. 15 Energy. Instant. 30 sec cooldown. 1 sec global cooldown.
Blade Flurry (New) Blade Flurry now instantly strikes up to nearby 5 targets for [ 120% of Attack Power ] Physical damage. Rogue – Outlaw Spec. Rogue – Outlaw Spec.
Outlaw Rogue Increases damage/healing by 13%: Ambush, Between the Eyes, Blade Rush, Deadly Poison, Death from Above, Dispatch, Eviscerate, Ghostly Strike, Instant Poison, Killing Spree, Main Gauche, Mastery: Main Gauche, Mutilate, Pistol Shot, Shiv, Sinister Strike, Wound Poison Increases periodic damage/healing by 13%: Ambush, Between the Eyes, Blade Rush, Deadly Poison, Death from Above, Dispatch, Eviscerate, Ghostly Strike, Instant Poison, Killing Spree, Main Gauche, Mastery: Main Gauche, Mutilate, Pistol Shot, Shiv, Sinister Strike, Wound Poison Rogue – Outlaw Spec. Rogue – Outlaw Spec.

Subtlety