Update: Die ersten Boni des Herzens von Azeroth

Update: Die ersten Boni des Herzens von Azeroth
Update: Nachdem findige Data Miner bereits vor ungefähr einer Woche die ersten bestätigten Boni des Herzens von Azeroth (Schamane und Jäger) in den Spieldaten der aktuell noch immer laufenden Alpha von Battle for Azeroth ausfindig machen konnten, brachte der vor einigen Tagen für die Alpha veröffentlichte Build 26175 interessanterweise auch noch einige weitere Effekte dieser Art für andere Klassen mit sich. Die mit diesem Update erschienenen Boni der Azeritausrüstung sind in diesem Fall dann für die Todesritter, Krieger, Paladine und Priester von World of Warcraft bestimmt. Zusätzlich dazu brachte dieses Update für die Alpha auch noch mehrere allgemeine Boni für das Herz von Azeroth mit sich, die sich scheinbar auf die ersten beiden Tiers des Talentbaums der Azeritausrüstung beschränken und zumindest theoretisch allen Klassen des Spiels zur Verfügung stehen könnten. Wer jetzt gerne mehr über diese praktischen Effekte erfahren möchte, der findet folgend insgesamt vier Listen mit Boni zu einigen von den Entwicklern festgelegten Klassen.
(Hinweis: Eine Liste mit unfertigen und unbestätigten Boni für das Herz von Azeroth findet ihr unter diesem Link.)
Allgemeine Boni:
Die bisherigen Boni der Todesritter:
Die bisherigen Boni der Paladine:
Die bisherigen Boni der Priester:
Die bisherigen Boni der Krieger:
Originalartikel:
Mit der spätestens im September 2018 erscheinenden Erweiterung "Battle for Azeroth" werden die Entwickler von World of Warcraft das in Legion verwendete System mit den Artefaktwaffen aus dem Spiel entfernen und das Ganze durch neues Fortschrittssystem rund um die Artefakt-Halskette "Das Herz von Azeroth" und die Ressource Azerit ersetzen. Durch das Sammeln von Azerit und das damit verbundene Aufwerten des Herzens von Azeroth können die Spieler im nächsten Addon bestimmte Azeritausrüstungsteile (Schultern, Helm, Brust) aufwerten und je nach Level ihrer Halskette spezielle Boni für die einzelnen Fähigkeiten oder Attribute ihres Helden freischalten. Das Ganze erfolgt dabei dann durch einen direkt in die jeweiligen Gegenstände eingebauten Talentbaum, der sich je nach Item und Slot ein wenig unterscheidet und den Spielern somit eine Reihe von Anpassungsmöglichkeiten für die Spielweise ihres Charakters bietet.
Auch wenn dieses interessante System in der derzeit laufenden Alpha der kommenden Erweiterung noch nicht getestet werden kann, so brachte ein vor einiger Zeit auf die Testserver von Battle for Azeroth aufgespielter Build aber zumindest schon einmal die ersten Boni der Azeritgegenstände mit sich. Während dieser Build für die meisten Klassen von World of Warcraft einfach nur Platzhalter für zukünftige Effekte mit sich brachte, erhielten die Schamanen und Jäger des Spiels interessanterweise aber bereits erste Versionen von richtigen Fähigkeiten und Verbesserungen. Weiter unten in diesem Artikel findet ihr eine Liste mit den durch das Herz von Azeroth freischaltbaren Boni für diese beiden Klassen.
(Hinweis: Bisher gibt es in den Spieldaten der Alpha noch keine genauen Informationen zu der tatsächlichen Verteilung dieser Boni. Die folgende Übersicht stellt eine Schätzung der Mitarbeiter von wowhead dar.)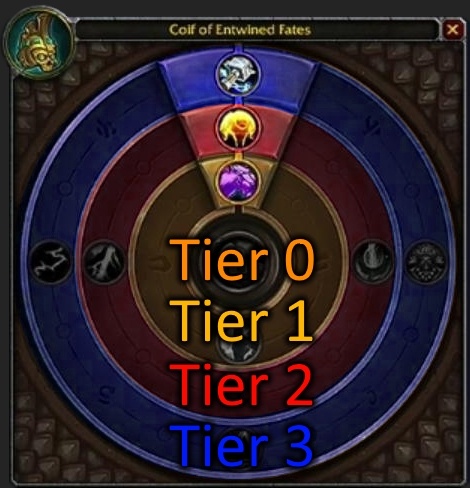 Die bisherigen Boni der Jäger:
Tier 0:
Tier 1:
Tier 2:
Tier 3:
Die bisherigen Boni der Schamanen:
Tier 0:
Tier 1:
Tier 2:
Tier 3: