Hearthstone: Der neue Patch 5.0.0 wurde veröffentlicht

Hearthstone: Der neue Patch 5.0.0 wurde veröffentlicht
Im Verlauf der vergangenen Nacht haben die Mitarbeiter von Blizzard nun endlich den von vielen Spielern bereits sehr lange herbeigesehnten neuen Patch 5.0.0 auf die Liveserver von Hearthstone: Heroes of Warcraft aufgespielt und gleichzeitig damit dann auch wieder offizielle Patchnotes im Battle.Net Launcher veröffentlicht. Dabei soll dieses Update die Spielserver dann im Grunde auf die in dieser Woche anstehende Veröffentlichung der Erweiterung "Das Flüstern der Alten Götter" vorbereiten, sodass die Spieler am eigentlichen Erscheinungstermin keinen Patch mehr herunterladen müssen.
Auch wenn die Karten aus "Das Flüstern der Alten Götter" und die Einteilung in die beiden neuen Formate den Spielern je nach Region vermutlich erst ab dem 26. oder 27. April 2016 zur Verfügung stehen werden, so wurden viele Features aus Patch 5.0.0 bereits jetzt in Hearthstone: Heroes aus Warcraft freigeschaltet. Dazu gehören dann beispielsweise die Nerfs an den klassischen Karten dieses Titels, eine verbesserte Anzeige zum Herausfordern von Freunden, ein "Wow-Emote", aktualisierte Deckformeln und eine Vielzahl von Fehlerbehebungen. Bei den restlichen Neuerungen aus diesem Update handelt es sich dann um Inhalte wie beispielsweise neue Kartenrücken, die erst im Laufe der nächsten Wochen eine Rolle spielen werden.
Die Patchnotes:
Die Zeit ist gekommen! Uralte Übel sind in diesem Patch aus ihrem Schlummer erwacht, um in Hearthstones neuester Erweiterung die Tentakel nach den Sterblichen zu strecken und für Chaos und Verwüstung zu sorgen: Das Flüstern der Alten Götter! Doch das ist noch nicht alles: Von nun an könnt ihr Hearthstone auf eine ganz neue Weise spielen! Außerdem sind in diesem Patch noch mehrere neue Kartenrücken und Varianten des Kartenchaos sowie einige Fehlerbehebungen enthalten.
Unten findet ihr weitere Details!
Hört ihr sie? Die Erweiterung "Das Flüstern der Alten Götter" ist eingetroffen! Ihr könnt die Kartenpackungen für "Das Flüstern der Alten Götter" jetzt im Hearthstone-Shop kaufen. Die Karten von "Das Flüstern der Alten Götter" können ab dem 26. April verwendet werden.

Das Jahr des Kraken hat begonnen und damit wird das Standardformat und das wilde Format eingeführt. Weitere Informationen findet ihr in unserem Blogpost "Eine neue Art zu spielen".

Das Menü zum Herausfordern von Freunden wurde überarbeitet. Ihr könnt eure Freunde jetzt zu Spielen im Standardformat oder wilden Format herausfordern und natürlich zum Kartenchaos.

Der Setfilter der Sammlung wurde überarbeitet.

Einige Deckformeln wurden für "Das Flüstern der Alten Götter" aktualisiert. Schaut euch an, was wir für euch in petto haben!

Folgende Kartenrücken wurden hinzugefügt:

Schattenmondtal –  Für das Erreichen von Rang 20 oder höher im gewerteten Modus im Mai.

Zul`Drak – Für das Erreichen von Rang 20 oder höher im gewerteten Modus im Juni.

Halbhügel –  Für das Erreichen von Rang 20 oder höher im gewerteten Modus im Juli.

Die garantierte Kartenpackung am Ende der Arenarunden wird jetzt immer aus der zuletzt erschienenen Erweiterung stammen. Zudem steigt die Wahrscheinlichkeit geringfügig, eine weitere Kartenpackung aus einem anderen Standardset zu erhalten.

Das Emote ,Tut mir leid" wurde durch das neue Emote "Wow" ersetzt. Wow!

Folgende Karten wurden geändert: Weitere Details zu diesen Änderungen findet ihr in unserem Blogpost "Wie Hearthstone dynamisch bleibt".

Urtum der Lehren – Zieht jetzt 1 anstelle von 2 Karten

Naturgewalt – Die Manakosten wurden von 6 auf 5 verringert, Treants besitzen keinen Ansturm mehr und sterben nicht länger am Ende des Zugs

Hüter des Hains – Das Leben wurde von 4 auf 2 verringert

Eisenschnabeleule – Die Manakosten wurden von 2 auf 3 erhöht

Großwildjäger – Die Manakosten wurden von 3 auf 5 erhöht

Mal des Jägers – Die Manakosten wurden von 0 auf 1 erhöht

Klingenwirbel – Die Manakosten wurden von 2 auf 4 erhöht und der Schaden wird nur noch Dienern zugefügt

Messerjongleur – Der Angriff wurde von 3 auf 2 verringert

Lepragnom – Der Angriff wurde von 2 auf 1 verringert

Arkangolem – Das Leben wurde von 2 auf 4 erhöht, Ansturm wurde entfernt

Geschmolzener Riese – Die Manakosten wurden von 20 auf 25 erhöht

Meisterin der Tarnung – Die von dieser Karte gewährte Verstohlenheit hält jetzt nur noch bis zu Beginn eures nächsten Zuges an

Es wurden verschieden Fehler in Bezug auf KI-Verhalten und Gameplay behoben, darunter:

Der Kampfschrei von Panischer Kodo wird in Kombination mit Brann Bronzebart nicht länger denselben Diener zweimal als Ziel auswählen.

Langbogen des Gladiators verhindert jetzt den von Sprengfalle verursachten Schaden.

Die Quests, bei denen ihr Trübauge der Alte und Papagei des Kapitäns als Belohnung erhalten konntet, wurden deaktiviert, da diese Karten nur um wilden Format verfügbar sind. Diese Karten können jetzt wie alle anderen hergestellt werden.

Die visuellen Effekte bestimmter klassischer Karten wurden verbessert.

Die Verbindungswiederherstellung wurde verbessert.

Es wurden verschiedene Grafik-, Sound- und Benutzeroberflächenprobleme behoben.
Neue Kartenrücken: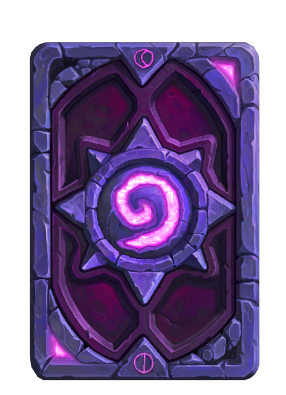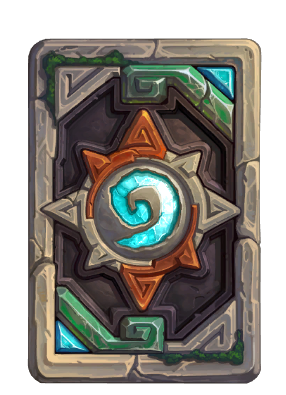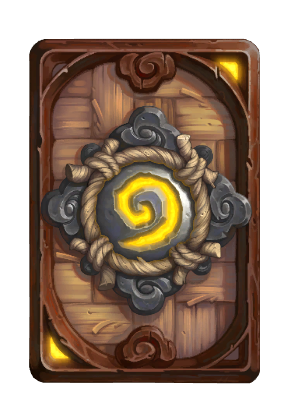 Das neue Spielfeld:
Neue Hintergründe für das Kartenchaos:
Neue Deckformeln:
Das neue Wow-Emote:
GAMEPLAY_EMOTE_EX1_323h_WOW_04 – UNBELIEVABLE!
GAMEPLAY_EMOTE_HERO_01_WOW – Astonishing!
GAMEPLAY_EMOTE_HERO_01A_WOW – By my beard!
GAMEPLAY_EMOTE_HERO_02_WOW- That's incredible!
GAMEPLAY_EMOTE_HERO_03_WOW – Incredible.
GAMEPLAY_EMOTE_HERO_04_WOW- By the Holy Light!
GAMEPLAY_EMOTE_HERO_04A_WOW – That is incredible!
GAMEPLAY_EMOTE_HERO_05_WOW – Astounding!
GAMEPLAY_EMOTE_HERO_05A_WOW – Incredible!
GAMEPLAY_EMOTE_HERO_06_WOW – Spectacular!
GAMEPLAY_EMOTE_HERO_07_WOW – Extraordinary.
GAMEPLAY_EMOTE_HERO_08_WOW – Amazing.
GAMEPLAY_EMOTE_HERO_08A_WOW- That's incredible.
GAMEPLAY_EMOTE_HERO_08B_WOW – Marvelous.
GAMEPLAY_EMOTE_HERO_09_WOW – Wow….
Die Flavor-Texte der neuen Karten: